Welcome back all. After a couple of back to back posts revealing just one new character, today we double productivity by showing two. I present the Street Thugs, Harry and Elvis, from Foundry's Street Thug package.
Batter's up!
Harry and Elvis are the names given to these two fellows on the Foundry website, and I've decided to stick with them. Unlike the Doctor or Detective from earlier blogs, these guys will likely be more of filler characters. I don't see them becoming main players at any point, so I didn't want to invest much history for them. In all likelihood, they will repeatedly be used for generic thugs as needed.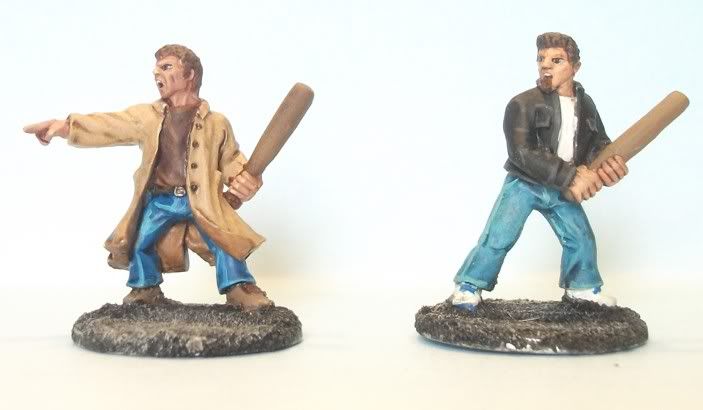 I don't like these guys' chances of survival in any conflict involving zombies or firearms.
I varied the paintjobs a littlebit from the Foundry site with these guys. I really didn't like Harry in their picture, so I gave him more brown tones and blue jeans instead. Elvis is only changed in that he has a red T-Shirt instead of red. His jeans are much lighter too, I'm happy with how they came out (Ice blue base, Blue Wash, then drybrush up with IceBlue/Bleached Bone mixture). Once again I am happy with the eyes, but my disappointment lies with the wooden weapons. They are just drybrushed, as any attempt of mine to highlight, just didn't look right. They'll do I suppose, but this is an area I would like to improve in.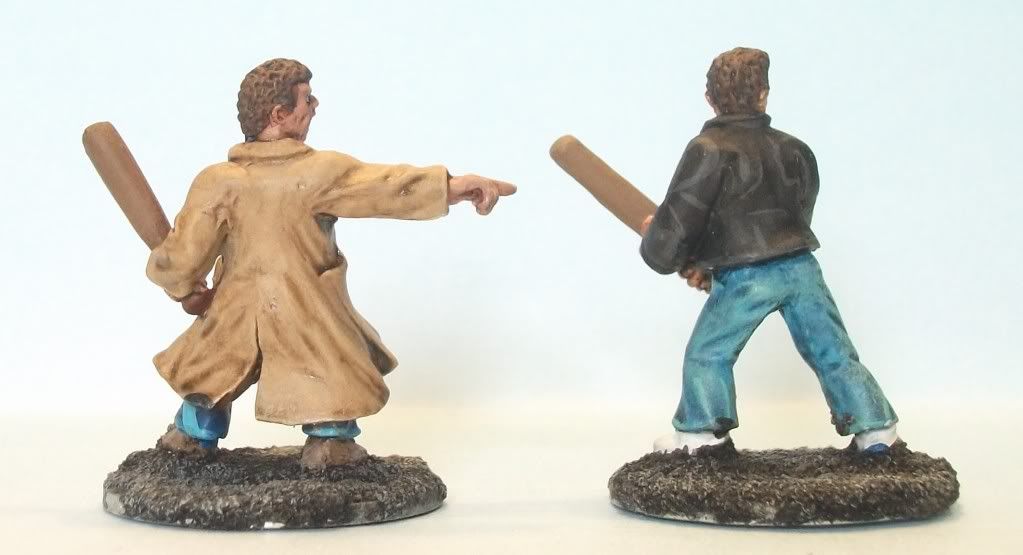 "Get 'em, Elvis!"
Thanks again for reading, and I hope you enjoyed this post. I appreciate any and all comments.