What's better than French Maids? I used to say, not much. But a wise man once answered that question with: French Maids with assault rifles. I tend to agree, and present to you the lovely Fifi L'amour.
She doesn't do windows.
Fifi was the name provided by Foundry, and I added the last name L'amour (french for love). It sounds like an appropriate name for a French Maid themed adult performed. Sorry to say, Fifi is a stripper, and not an honest working maid.
Fifi's paintjob is pretty basic, though I did attempt some layering on the legs to make the nylon's appear semi transparent. It came out alright, though not as nice as I'd hoped. (That is to say, not nearly as nice as the tutorial I followed).
Deadly
Despite looking good as a blond on the Foundry site, I decided to make Fifi a brunette. This was mostly because I already tended to paint more blondes, and wanted Fifi to be a bit unique. Also worth noting is the white mini apron. On the Foundry site, it really looks like a sculpted feature, but it does not occur on the actual model. I decided to paint it on, as it really helps define the figure as a maid rather than just in a negligee. I opted not to thin down my paints for this, as it helps it look a little less flat and more like a separate article of clothing.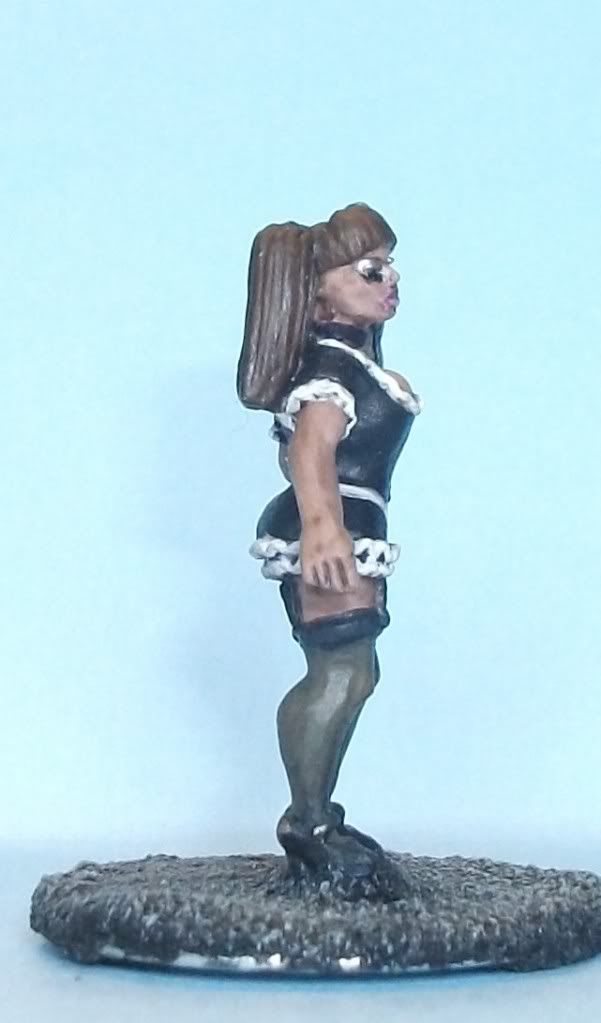 Nice curves.
Fifi comes well armed, with a STG 77 I believe (my gun knowledge is not the best, but it resembles an STG from a PS2 video game I used to play). I like this model of weapon as it has a brown body, which helps separate from the usual black used.
I hope you enjoyed this little update, she is one of my favourite figures I received in my Foundry order. (This likely has to do with my fondness of French Maids). Should be back into the multi figure updates next time.
Thanks for reading, and all comments are appreciated.