Another update on the ATZ game preparations. Things are coming together nicely. I am just about done with my Victory Force Zombies. That has been at quite a standstill lately, but I started working on their bases. I may have to touch a few things up on them, but they should be making their appearance on the blog soon enough.
As well, I have brought 5 of my 6 Sarissa buildings to near completion. I do want to attach a bit more signage in a few places, but they are just about ready to be featured here as well. They all need some furniture still, but I have printed off several sheets from WWG for this purpose. I'll probably feature the buildings without furniture in the next week or so.
Also, I have a good chunk of roads from WWG printed out and pasted onto cardstock, and have even set up a little city. I shouldn't be too far off of some gaming.
While all the above mentioned items are close to being ready, none were quite enough ready for its own blog post, so today I'm going to show a figure I actually finished quite a while ago, but didn't get a chance to update. The figure is going to be my ATZ representation of myself.
Anyone who has read Vampifan's battle reports know how cool it is to have a miniature representing yourself on the table, and I knew I just had to do the same. It was tough to settle on something that captured me at least semi accurately. I knew I needed a few things: short hair, a goatee, a gun in a firing position and clothes that could be made into something I would wear. I never found such a figure.
But I ready to tackle my first conversion by combining the best of two figures from Wargames Foundry Line; Blanco from The Proffessionals and Ace from Juno's crew.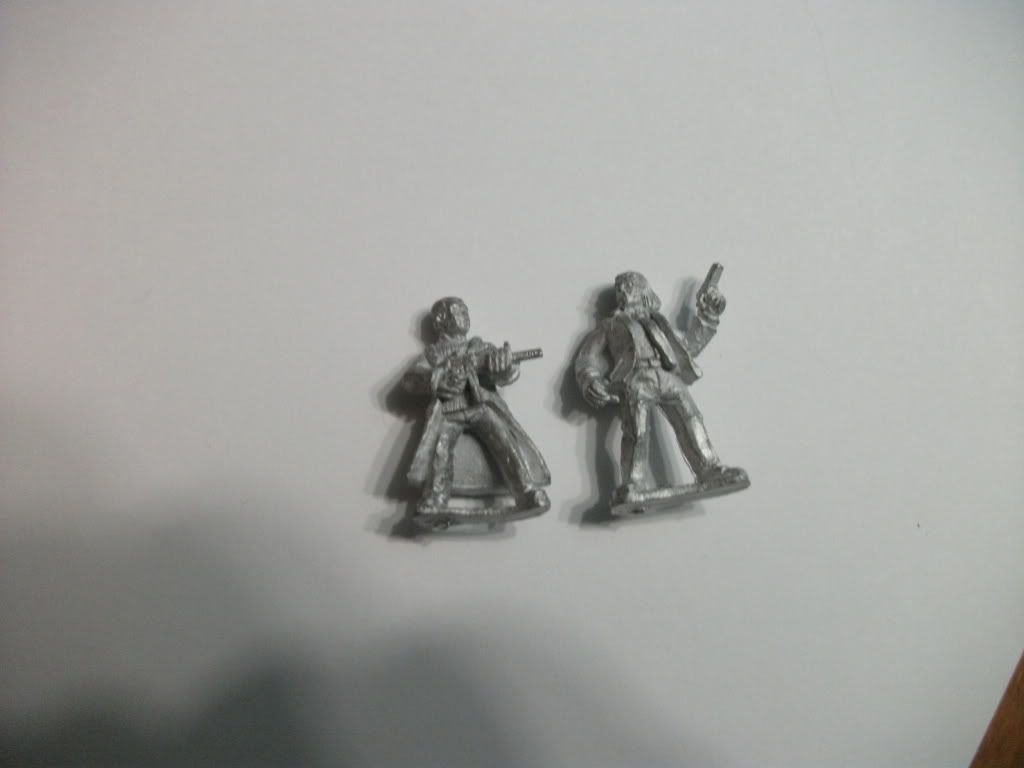 I really liked the pose of Blanco, but he's trenchcoat is not something I could ever say I wore. Also, he is a bit shorter than most other figures (some of that is due to his pose). He also did not have a goatee.
The goatee was the easiest issue. I attached the tiniest bit of greenstuff to his chin, and textured it slightly with a tooth pick. To deal with the sweater look (I rarely wear sweaters), I just sanded away the textured lines from his shirt. Now it looks like a T-Shirt. Then came the tough part, cutting both miniatures in half, and switching torsos. It actually wasn't that bad! On the Lead Adventure forums I received some great advice/motivation from
Ramshackle_Curtis
, who is the sculptor for
Ramshackle games
(check them out). Using a jewelers saw, the process wasn't that bad. Suddenly the miniature was taller, and wearing a coat like I normally wear. The plaid paintjob was a must.
Again, I'm pretty happy with how it came out, even the paintjob seems to have just worked. I showed it to my four year old and he had no problem knowing it was supposed to be me. I also attached a pic of myself just to show the resemblance.
Now it's time to see how he survives in the Zombie Apocalypse.
Comments are always appreciated.